RIDE WITH NORMAN REEDUS - SEASON 6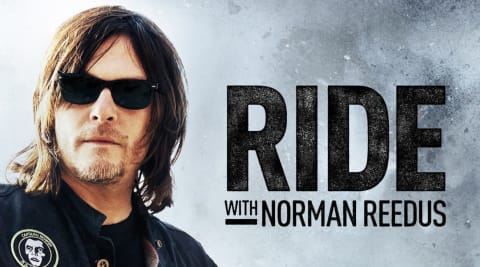 The sixth season of "Ride with Norman Reedus" premiers on Sunday, September 10th on the AMC channel and streaming platforms AMC+ and MAX in the US. The 6th Season will follow the show's traditional format where each episode follows Norman exploring a new part of the world from the seat of a Triumph Tiger 1200, alongside a celebrity riding mate. This season promises to be another thrilling adventure with a star-studded lineup of guests, all sharing their passion for motorcycles and exploration.


Norman Reedus is known for iconic roles in "The Walking Dead", "The Boondock Saints", and "Blade II", but uses this show to share his love of riding, people, and storytelling. As Norman journeys through some of the most scenic locations in the world, he makes sure to stop and make significant human connections, and eloquently reflects on what each adventure meant to him.
Along for the ride this season is yet another impressive roster of guest appearances from some familiar faces, each bringing an insider's view to their unique relationship with Reedus. Learn more about each guest in the brief episode guide below.
The Episodes*:
Episode 1: The Utah Desert with Keanu Reeves – Premiers Sep 10th, 2023
Norman Reedus and actor Keanu Reeves journey through the otherworldly landscapes of the Utah desert; from the Bonneville Salt Flats to Canyonlands Natural Park to a motorcycle bash in the canyons of Moab, it's one epic adventure.
Episode 2: Northern Italy with Josh Holloway – Premiers Sep 17th, 2023
Actor Josh Holloway joins Norman Reedus for a ride through rustic Northern Italy; navigating through some of the most scenic roads in Europe, they quench their need for speed in Motor Valley before exploring Josh's old stomping grounds in Bologna.
Episode 3: The Eternal City with Johnny Knoxville – Premiers Sep 24th, 2023
Accompanied by actor Johnny Knoxville, Norman Reedus navigates his way through ancient Rome, the eternal city; taking in the cuisine and culture of the birthplace of Western Civilization.
Episode 4: Portugal: A Journey From Lisbon to Porto – Premiers Oct 1st, 2023
Norman Reedus and artist Adri Law explore one of Europe's hottest destinations: Portugal; on a scenic ride up the country's western shoreline, they discover the impact the recent tourist boom has had on this old world country.