VAHNA MOTORCYCLE FILM FESTIVAL PRESENTED BY TRIUMPH TO SPOTLIGHT MOTO FILMS IN SIX CITIES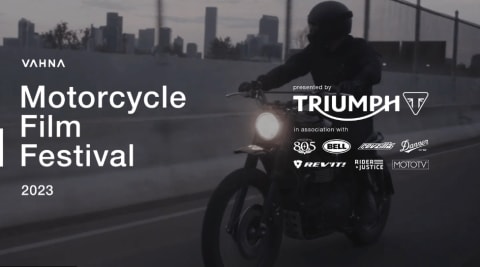 VAHNA Magazine and Journal (formerly META Magazine) has launched the inaugural VAHNA Motorcycle Film Festival presented by Triumph Motorcycles. This annual film competition and festival tour celebrates the art of motorcycle cinematography and offers aspiring filmmakers a platform to showcase their unique storytelling abilities and creative vision to the world.
Triumph joins VAHNA as the presenting sponsor of the film festival. Triumph is providing a new 2024 Bonneville T120 as the Grand Prize for the festival, with the hopes of incentivizing motorcycle filmmakers to create and submit their most inspired work.
From classics pictures such as The Great Escape and The Wild One, to modern blockbusters like Jurassic World and 007's No Time To Die, motorcycles in film have helped inspire generations on new riders. Triumphs have been prominently featured in many iconic motorcycle moments in film and television, such as the aforementioned. With this legacy in mind and to help ensure motorcycles on film continue to inspire the next generation of riders, Triumph is proudly supporting this important film festival dedicated to motorcycles.
The 10 total selected films will be shown in theaters during a 6-city US tour between October 2023 to April, 2024. Tentative inaugural festival cities to are Atlanta, Denver, Phoenix, Los Angeles, Portland, and Austin. Each event will be open to the public with the films being voted on by guest judges in each city. The top three winners over the course of the festival tour will receive amazing prize packages with products from supporting partners with the overall winner receiving a brand new 2024 Triumph Bonneville T120.

Full festival information is available online at: https://www.vahna.com/filmfestival