TIGER SPORT 660: YOUR QUESTIONS, OUR ANSWERS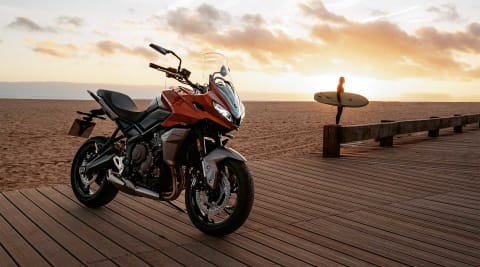 Real rider questions answered directly by Triumph - everything you wanted to know about the new Tiger Sport 660. It's the new first choice, with triple powered performance, incredible versatility, and the lowest cost of ownership in the category.



DOES THE TIGER SPORT 660 HAVE THE CLASSIC TRIUMPH 3-CYLINDER ENGINE?
Yes, which makes it unique and gives it a real advantage over two cylinder motorcycles, where it has class-leading peak power and delivers strong power throughout the rev range.
IS IT SUITABLE FOR SMALLER RIDERS?
The bike has a really accessible seat height of 32.87in combined with a very narrow waist delivering excellent standover.
IS THE SEAT HEIGHT ADJUSTABLE?
There is an accessory seat option available which reduces the seat height by 0.98in to 31.88in.
WHAT ARE THE MAIN DIFFERENCES AND SIMILARITIES BETWEEN THE TIGER SPORT 660 AND THE TRIDENT 660?
The bikes share the same triple engine platform and class-leading riding modes and technology but the chassis setup and ergonomics on the Tiger Sport 660 were designed for greater two-up comfort and long range capability. That includes a more relaxed and upright riding position, longer travel suspension, single hand adjustable screen, a longer seat for more pillion comfort and fully integrated luggage and top box options.
IS IT FRIENDLY FOR NEW RIDERS AND CAN IT BE A2 RESTRICTED?
Absolutely, the new Tiger Sport 660 is fully A2 compliant when fitted with an accessory fit restrictor kit. Your dealer can then derestrict the bike when you pass your test.
WHAT IS THE FUEL TANK CAPACITY AND HOW MUCH RANGE DO YOU GET FROM A FULL TANK?
We have a 4.4-US gallon fuel tank giving a great riding range of over 230 miles from a full tank, based on average fuel consumption numbers.
IS THE BIKE CAPABLE OF LIGHT OFF ROADING?
As a Tiger Sport, the new 660 is 100% road focused with a setup designed to be great for all round riding from commuting to touring.
IS IT COMFORTABLE FOR A PILLION RIDER?
Yes, the bike was specifically developed for two-up comfort, which includes a longer rear frame to accommodate a larger pillion seat.
WHAT IS THE CAPACITY OF THE TOP BOX AND PANNIERS?
The panniers have a combined capacity of 15.0-US gallons, with the ability to fit a full-face crash helmet in each. The top box has a 12.4-US gallon capacity and was designed to fit two full-face crash helmets.
TIGER SPORT 660
The new first choice, with triple performance and responsiveness, head-turning Tiger poise and incredible comfort, capability and versatility.
Price From $9,695.00