Eric Hendrikx | Distinguished Champion for Mental Health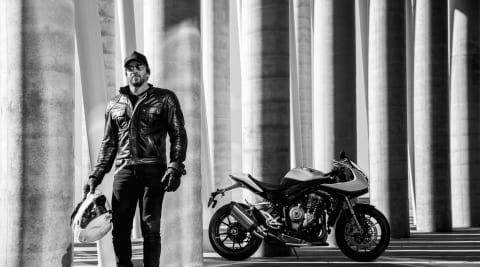 On World Mental Health Day, it is fitting to shine a spotlight on lifelong rider and motorcycle enthusiast, Eric Hendrikx, who has built an editorial career writing for marquee publications such as Rolling Stone, Playboy, Men's Journal and REVOLVER. In recent years however, he's becoming more well-known as a champion for mental health awareness and fundraising.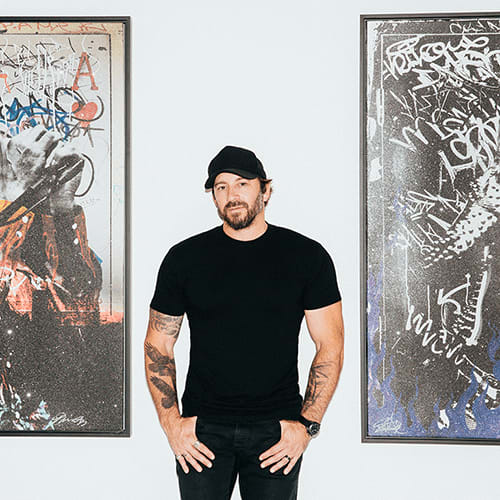 Eric's passionate support of mental health stemmed from his own mental challenges following a 2017 riding accident in the Swiss Alps. Several days after the accident, Eric woke from a medically induced coma to a long list of fractures and a pending surgery to reassemble his shoulder and collar bone with titanium plates.
While the surgeries successfully pieced Eric's body back together, the traumatic accident left him a shell of his former self—nearly fifty pounds lighter with nerve damage, temporary lost use of his right arm, difficulty in reading, and the mental isolation of a long recovery process ahead. The mental challenges were significant. During this time, Eric had to teach himself means to mend the mind. He discovered the keys were to come to terms with being vulnerable, to accept the support of others, being open to communication, and eventually proactively reaching out to loved ones.
As he continued to realize the benefit of emotional support, Eric continued to receive more and more of it. From close friends traveling great lengths to visit him, to kind words and positive messages from unknown fellow motorcyclists sharing their similar experiences for hope, the sum of feeling loved kept him on the road to recovery.
With a strong and loving support network behind him, Eric fought relentlessly through rehabilitation to ensure he could still be able to enjoy the activities he loves. And within six months of his return from Europe, he found his way back onto two wheels. He also found a strong appreciation for the value of positive mental health and began dedicating time to raise funds and awareness for mental health.
Just a year from his accident, Eric took the first major step in becoming an advocate for mental health as he became a Global Ambassador for The Distinguished Gentleman's Ride (DGR) in 2018. For the 2019 DGR, Eric accepted the honor of being named Grand Marshal for the Orange County, California Ride. Since 2018, Eric has raised over $15,000 USD as a participant in each year's Gentleman's Ride.
Humbled and perhaps inspired by the generosity of his DGR donors, Eric took his efforts to a new level. Ahead of the 2022 Gentleman's Ride, Eric took the initiative to host a private pre-ride fundraising event in his new hometown of Toronto, aptly named A Distinguished Social Affair. The high-end inaugural event drew a significant crowd, and between entry fees and premium auction items, the event raised an impressive $15,000 USD for Movember.
Despite having already contributed so much, Eric knew that through his talents, network, and drive to make a difference, that he could do more. In the summer of 2022, he opened an art exhibit at the Peter Triantos Gallery in Toronto titled Rock & Roll Forever. The gallery consisted primarily of large mixed media pieces based on photographs taken over Eric's illustrious journalism career with Rolling Stone and REVOLVER, that were painted by contemporary artist, Peter Triantos. The pieces featured iconic rock stars such as Slash, Ben Harper, Fergie, and Dave Grohl. In a showing of success, the gallery sold out, raising more than $100k, with proceeds benefiting Movember and The Unison Fund.
If anyone thinks that Eric has quelled his passion for philanthropy and mental health awareness and fundraising, they'd be mistaken. With the proven success of A Distinguished Social Affair and his altruistic art show, Eric plans to grow both events in 2023, with the ambition of becoming the largest Distinguished Gentleman's Ride supporter in Canada, and eventually in the world. From everything we've learned about Eric Hendrikx, we believe he won't stop until well after this lofty goal is achieved.
To contribute to Eric's fundraising campaign, his Distinguished Gentleman's Ride fundraising page accepts donations year-round.