Performance, Style and tech
STREET TRIPLE
PERFORMANCE, STYLING & TECHNOLOGY
The new Street Triple delivers intuitive, precise handling and class-leading capability, all from a uniquely stylish motorcycle. Combining distinctive, British streetfighter attitude with advanced rider-focused technology, the riding experience is nothing short of thrilling.
This is a closer look at some of the exciting performance, styling and technological highlights of the new Street Triple.
PERFORMANCE
STYLING
TECHNOLOGY
PERFORMANCE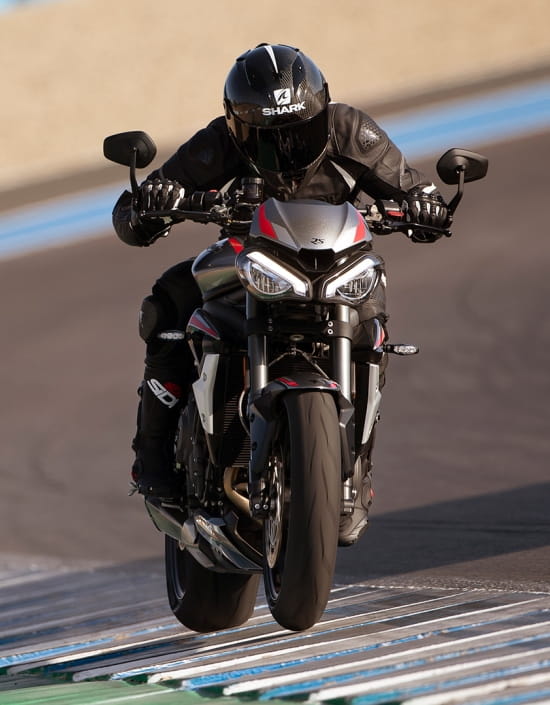 STYLING
TECHNOLOGY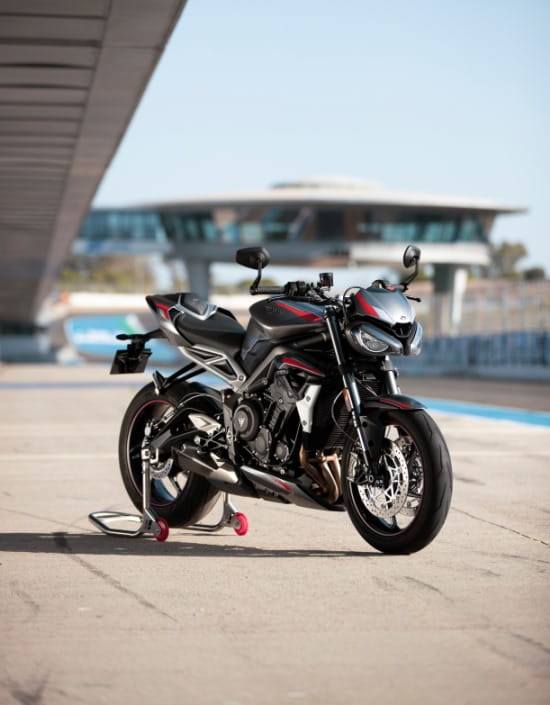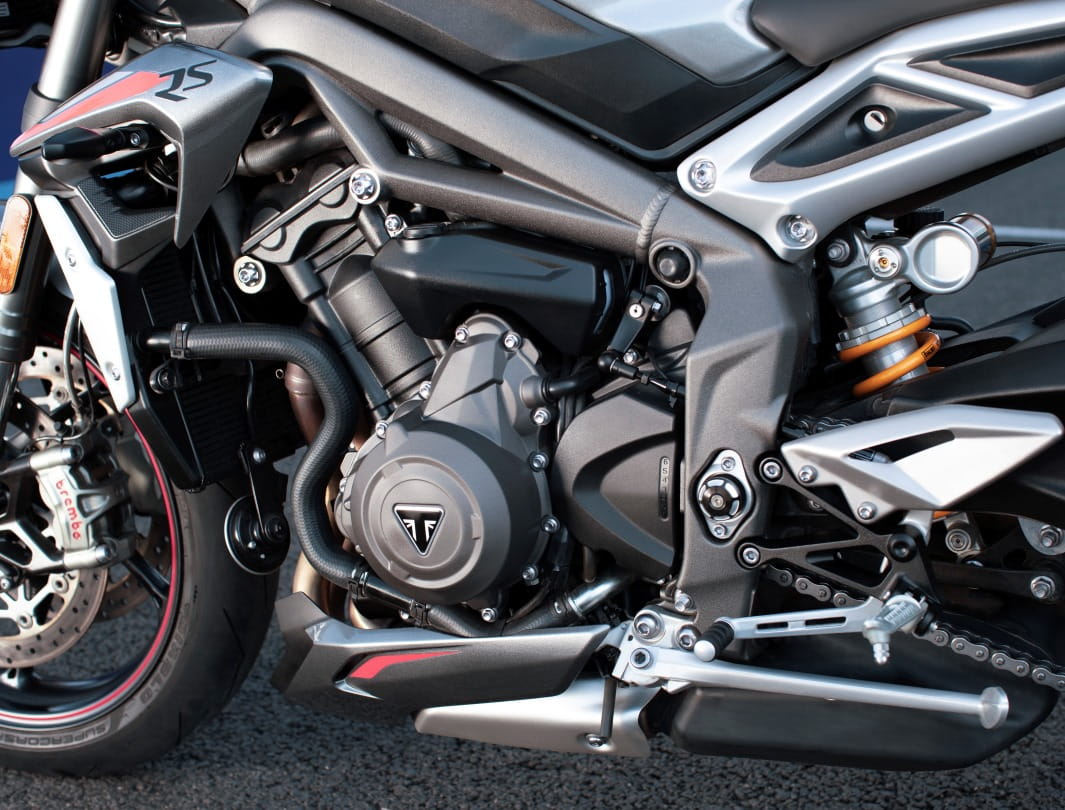 EURO 5 ENGINE UPDATES
The Street Triple RS has exhilarating power and low-down performance from an updated 765cc engine, developed by Triumph's Moto2™ engine team. Now Euro 5 ready with higher precision machining on the crankshaft, clutch and balancer for less rotational inertia, the result is a more responsive and refined ride.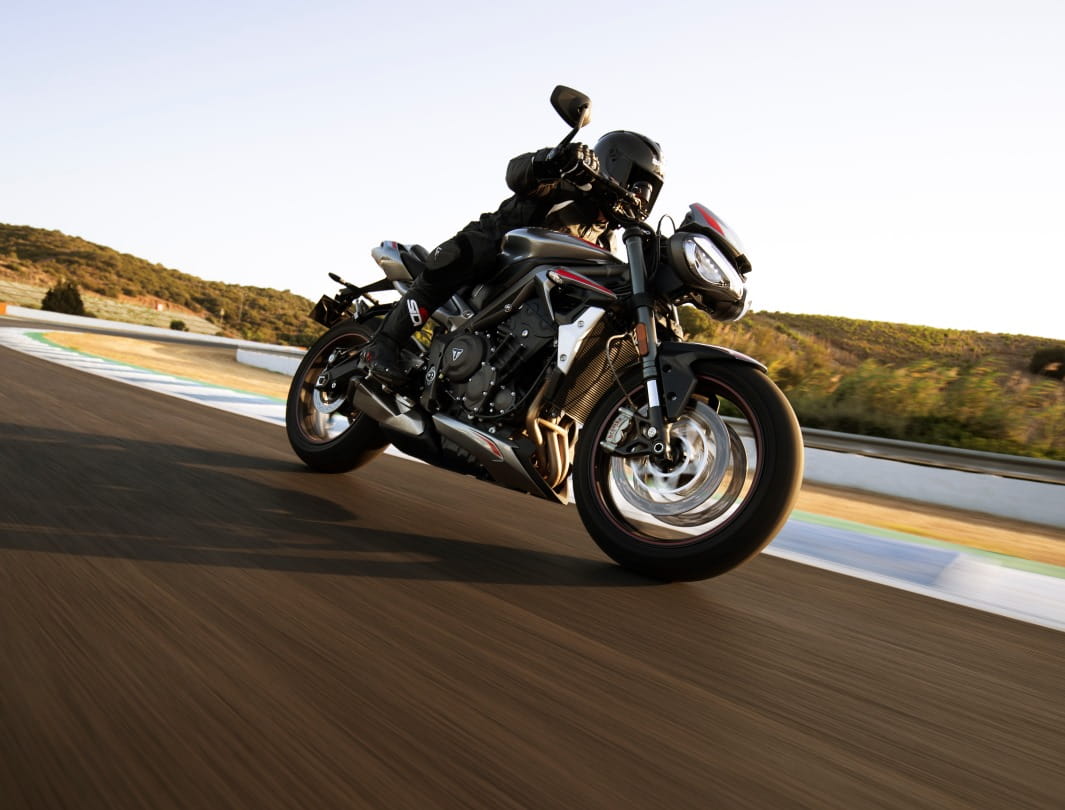 MORE TORQUE
Peak torque of 58 LB-FT @ 9,350 rpm on the RS model is higher than the previous generation, with an impressive 9% stronger spread of torque across the mid-range. The bike's new balance pipe smooths the torque curve for even more addictive Street Triple power delivery.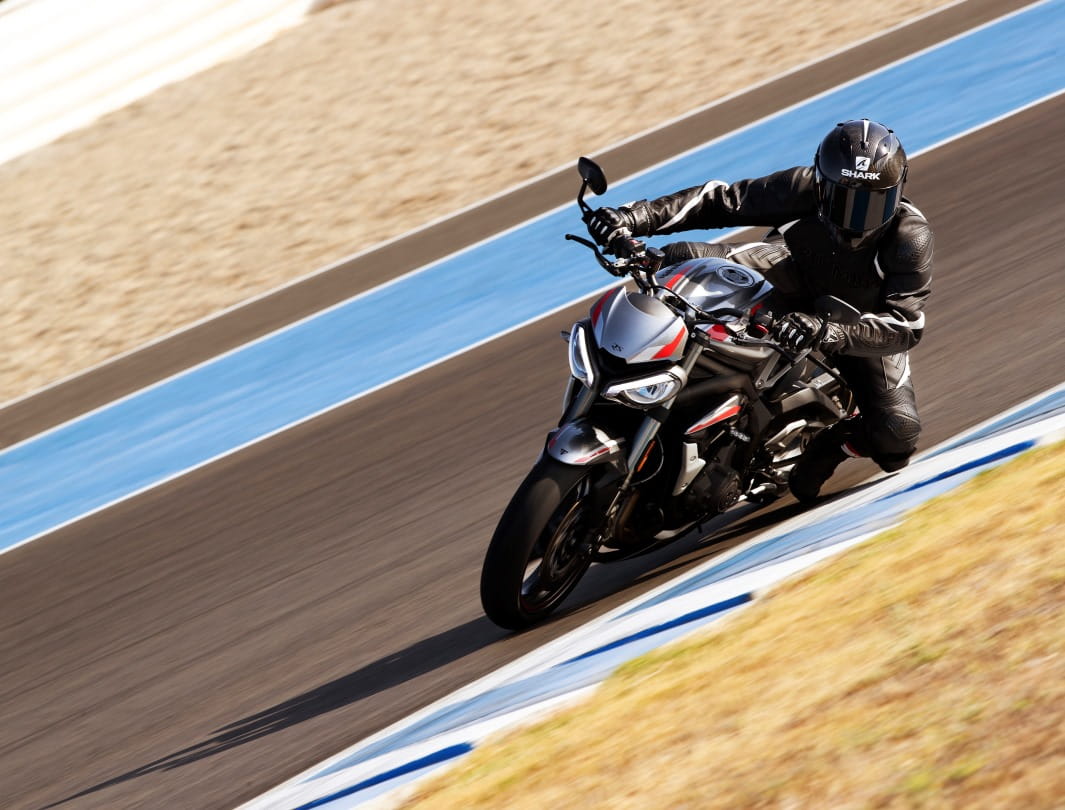 MORE POWER
With a high peak power figure of 121 HP @ 11,750 rpm, the new generation RS also delivers 9% more horsepower in the mid-range for an even more thrilling and dynamic ride.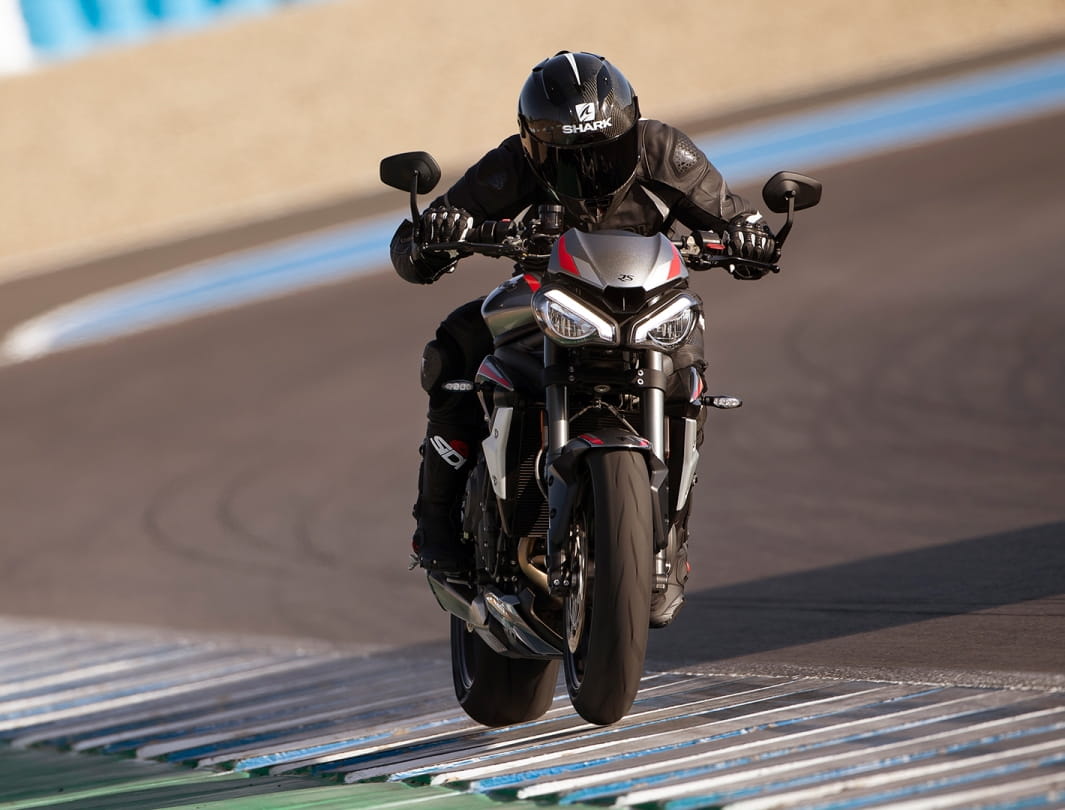 MORE RESPONSIVE
The new RS model enjoys an improved responsiveness primarily achieved by a 7% reduction in rotational inertia gained from higher precision machining. When combined with the increase in torque across the rev range, the improvement in the Street Triple's immediacy is notable.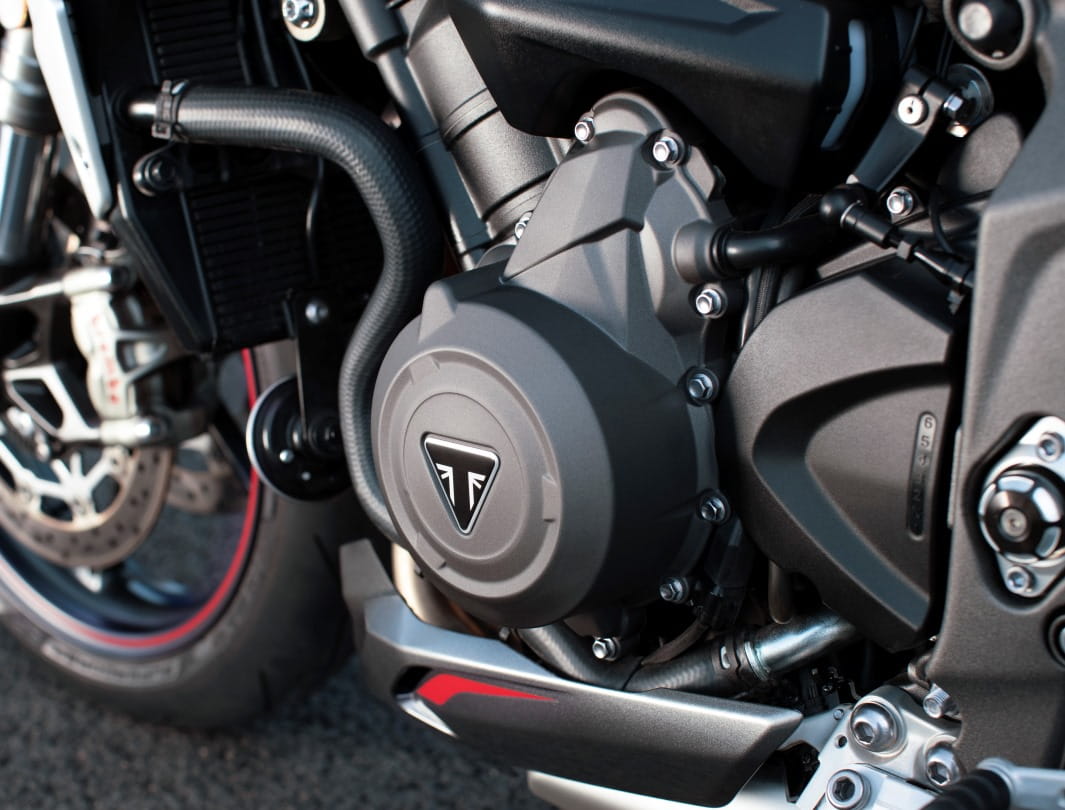 REFINED GEARBOX
A smoother more refined gearbox has short 1st and 2nd gear ratios for exceptional acceleration and slick gear changes. The higher precision machining enabled the removal of the anti-backlash gears, which reduces overall mass and adds a higher level of riding refinement.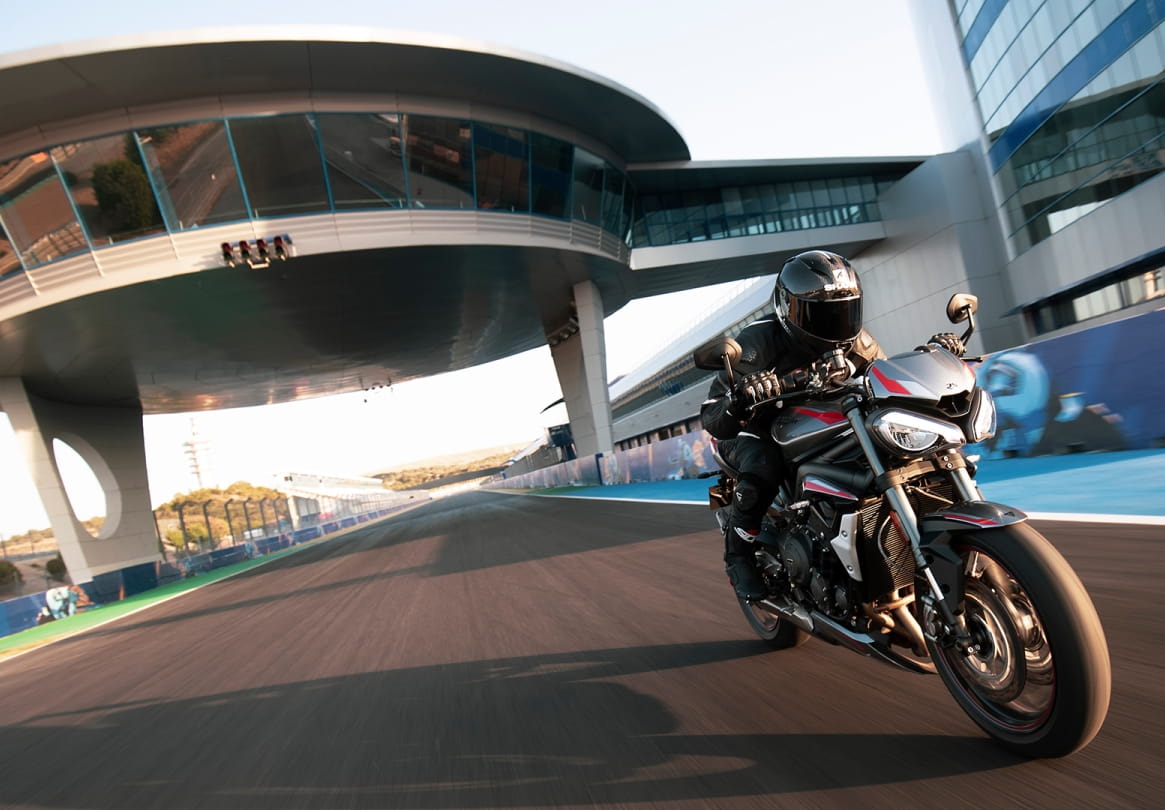 LIGHTEST BIKE IN CLASS
The Street Triple range is world-renowned for its exhilarating ride and impeccable handling character, ensuring its reputation as both the top performing motorcycle in its class and a superbly accessible, user friendly ride. The amazing power-to-weight ratio is central to the Street Triple's game-changing performance and agile handling, and at 366 pounds (dry weight) the RS model is the lightest bike in its class.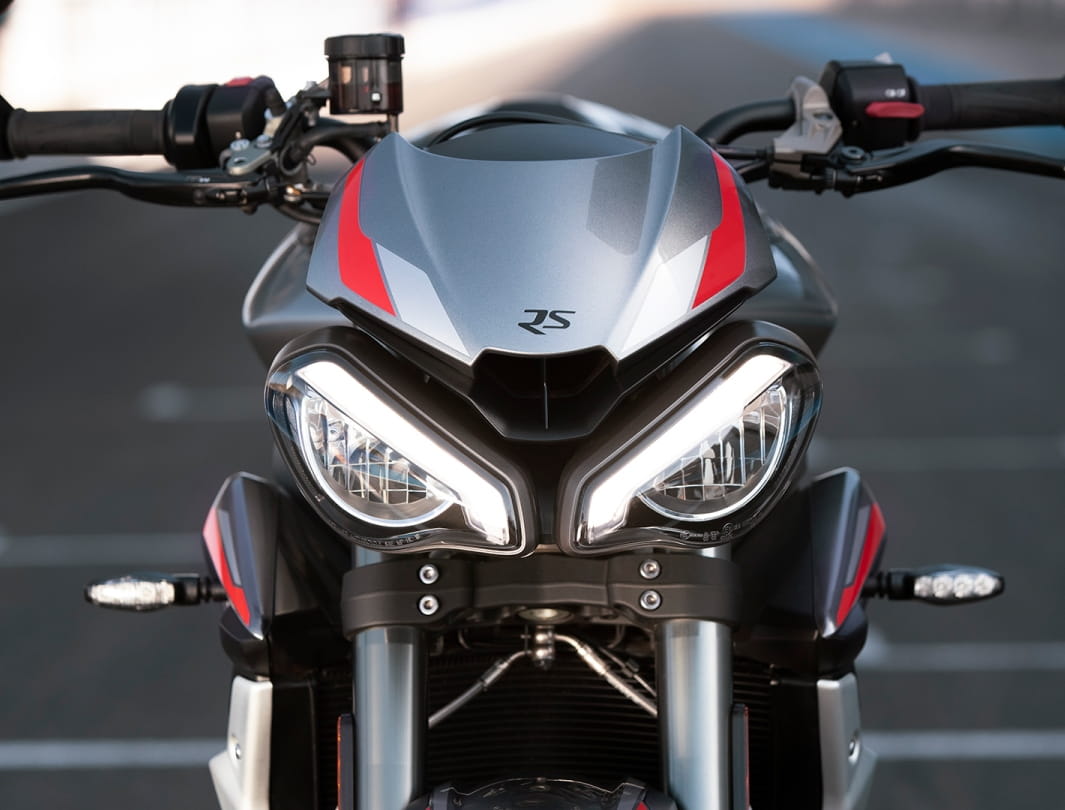 NEW LED HEADLIGHTS
A more distinctive and aggressive new look for the new Street Triple brings sharper, more purposeful twin LED headlights that are whiter, brighter, more conspicuous and more aggressively styled. The LED lights benefit from low energy consumption and greater long-term durability, while the bigger Daytime Running Lights (DRL) on the RS (where local market legislation allows) offer increased visibility.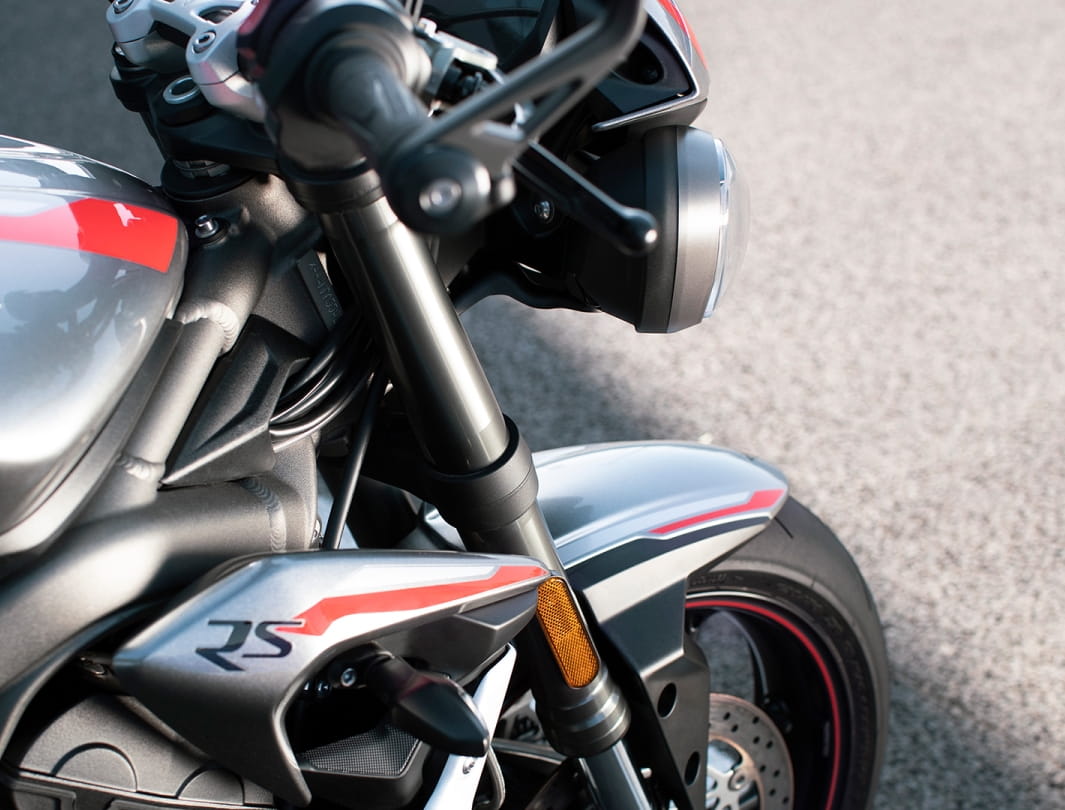 NEW CONTEMPORARY BODYWORK
The new Street Triple's distinctive styling is complemented with new more contemporary bodywork that brings cleaner lines for a more angular, sporty look. Restyled elements include a more pronounced flyscreen and air intake unit, new side panels and new rear unit. Plus exclusively for the Street Triple RS, a new color coded seat cowl and belly pan, plus a more distinctive silencer with premium sporty carbon fiber finisher.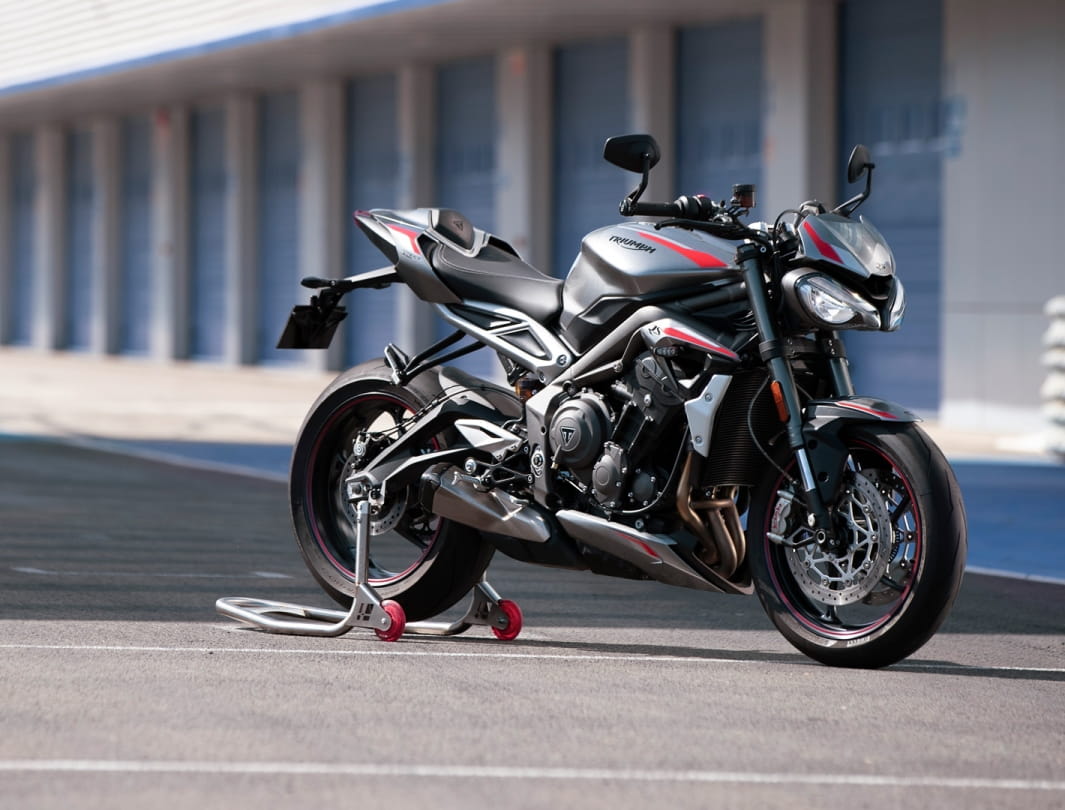 HIGH LEVEL OF FINISH
New shaped mirrors give the 2020 Street Triple a more contemporary front-end look and the new handlebar clamp was restyled to feature premium Triumph branding. In addition, new black control plates and rear footrest hangers along with satin metal heel guards and silencer, all exhibit more harmonized component finishes, while the new Titanium Silver colored main frame of the RS contributes to the highest level of finish ever seen on a Street Triple.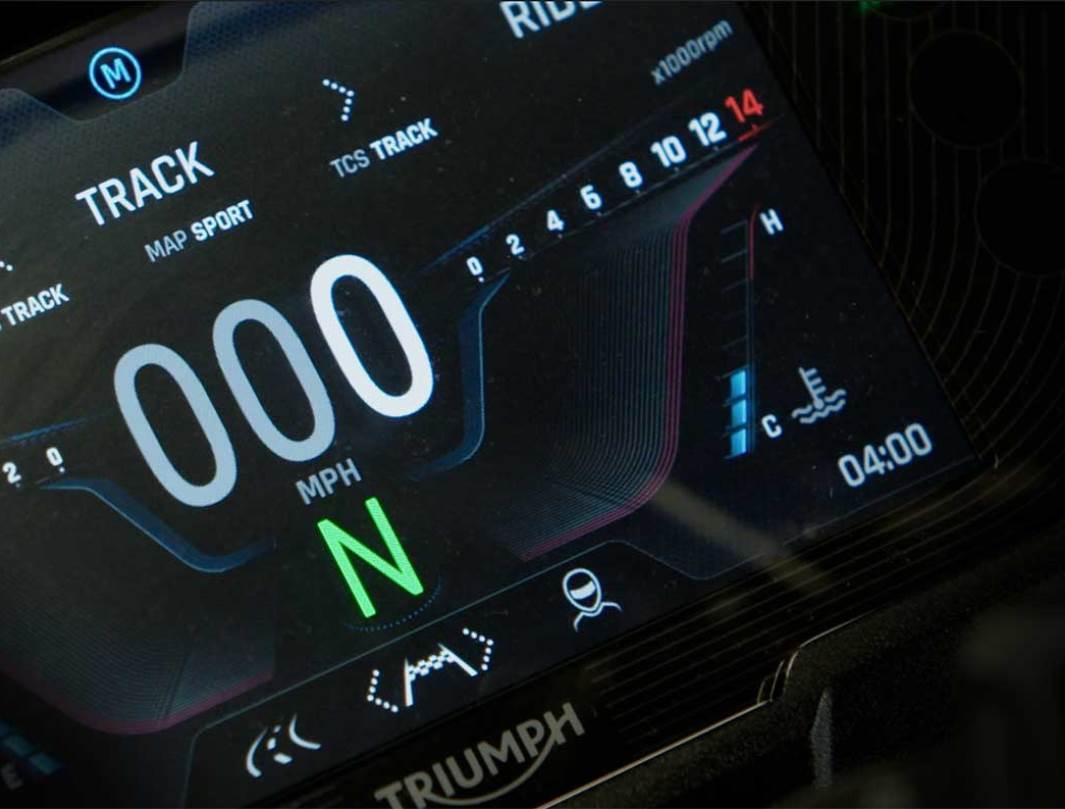 ENHANCED TFT FUNCTIONALITY
The top-spec RS model now features unique 2nd generation graphic schemes on the TFT instrument screen. The TFT screen angle can be adjusted for optimum visibility to suit rider height and works with ergonomically optimized switch cubes and 5-way joystick. MYTRIUMPH CONNECTIVITY SYSTEM ENABLED
The new Street Triple RS comes with a major step up in technology, including the new MyTriumph connectivity system pre-enabled for use with the accessory-fit module delivering GoPro interaction, turn-by-turn navigation and phone & music operation.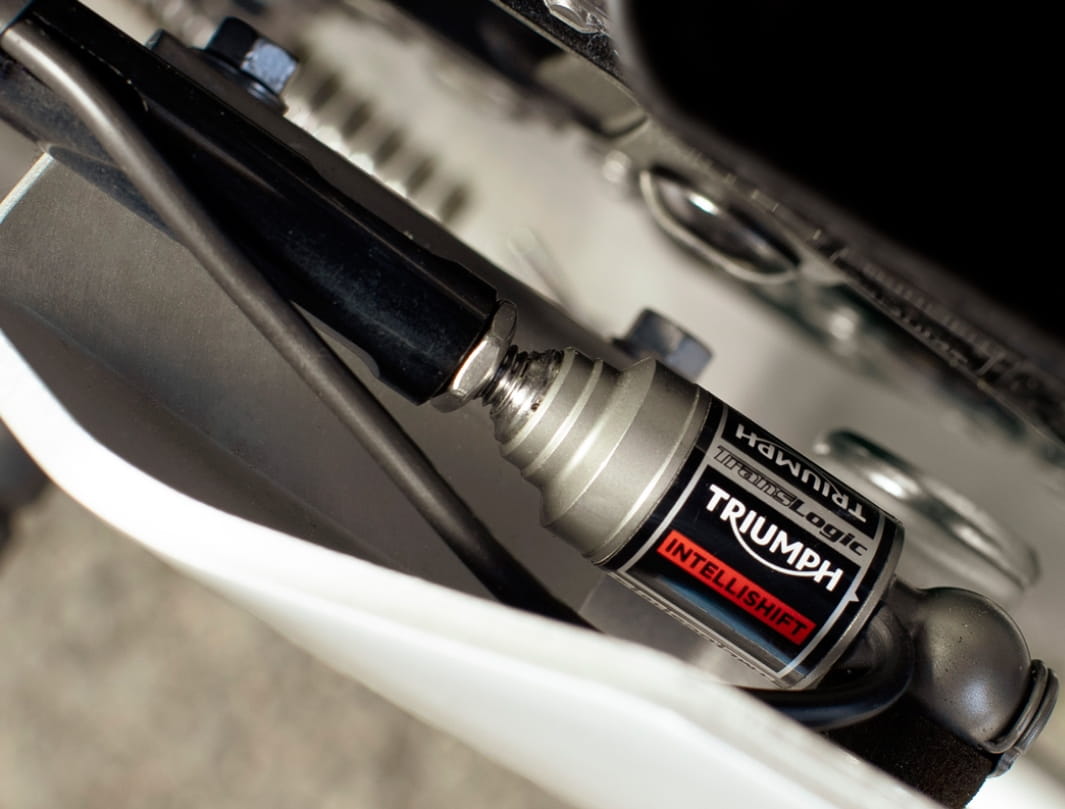 NEW TRIUMPH SHIFT ASSIST
Fitted as standard to the Street Triple RS, Triumph's very own Shift Assist is an up and down quickshifter for smooth comfortable gear changes while maintaining the accelerator position. This reduces rider fatigue and gives the motorcycle an even greater level of capability, particularly on the track.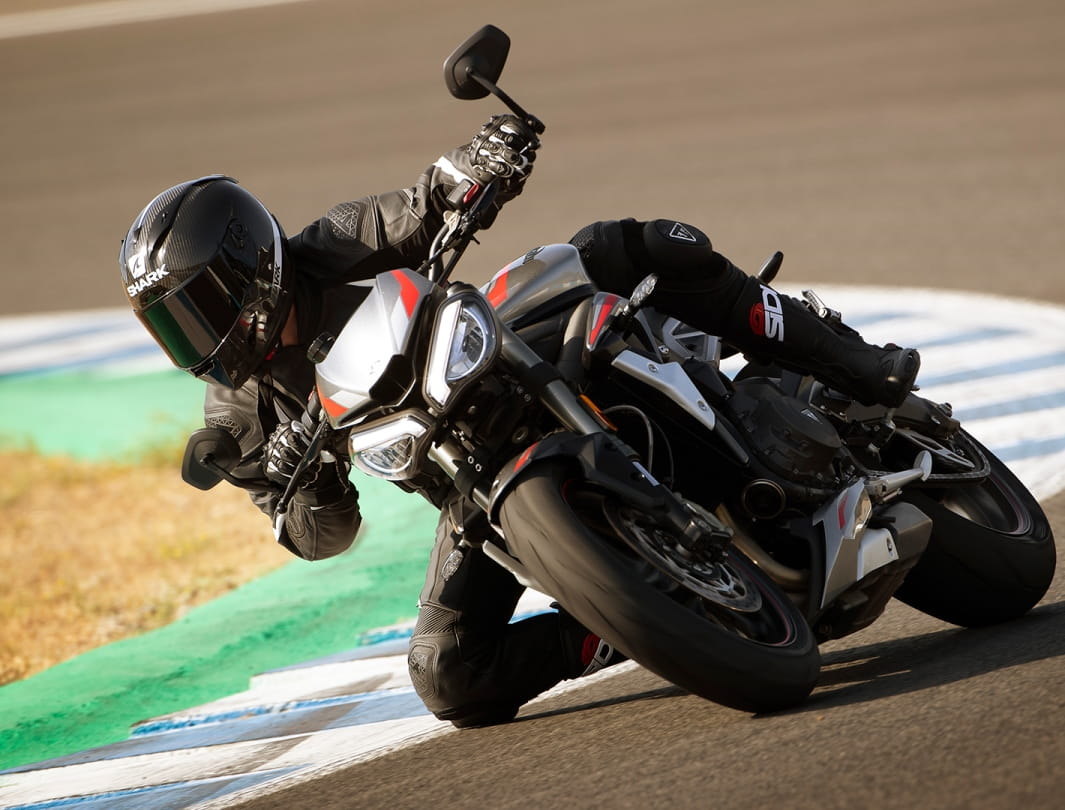 HIGH LEVEL OF RIDER-FOCUSED SPECIFICATION
Five riding modes on the new Street Triple RS (Road, Rain, Sport, Track and Rider-Programmable) adjust throttle response, ABS and traction control settings to optimize performance to suit the rider. In addition, ride-by-wire for precise throttle response, adjustable ABS, switchable traction control and self-cancelling indicators are all part of the new Street Triple's high-tech standard equipment.