STREET TRIPLE
reasons to ride
Already a revolutionary game-changing motorcycle, the new generation Street Triple RS has further evolved with more aggressive styling, better performance, high specification standard equipment and even better rider technology.
Here are some highlights to look out for when you test ride this incredible motorcycle.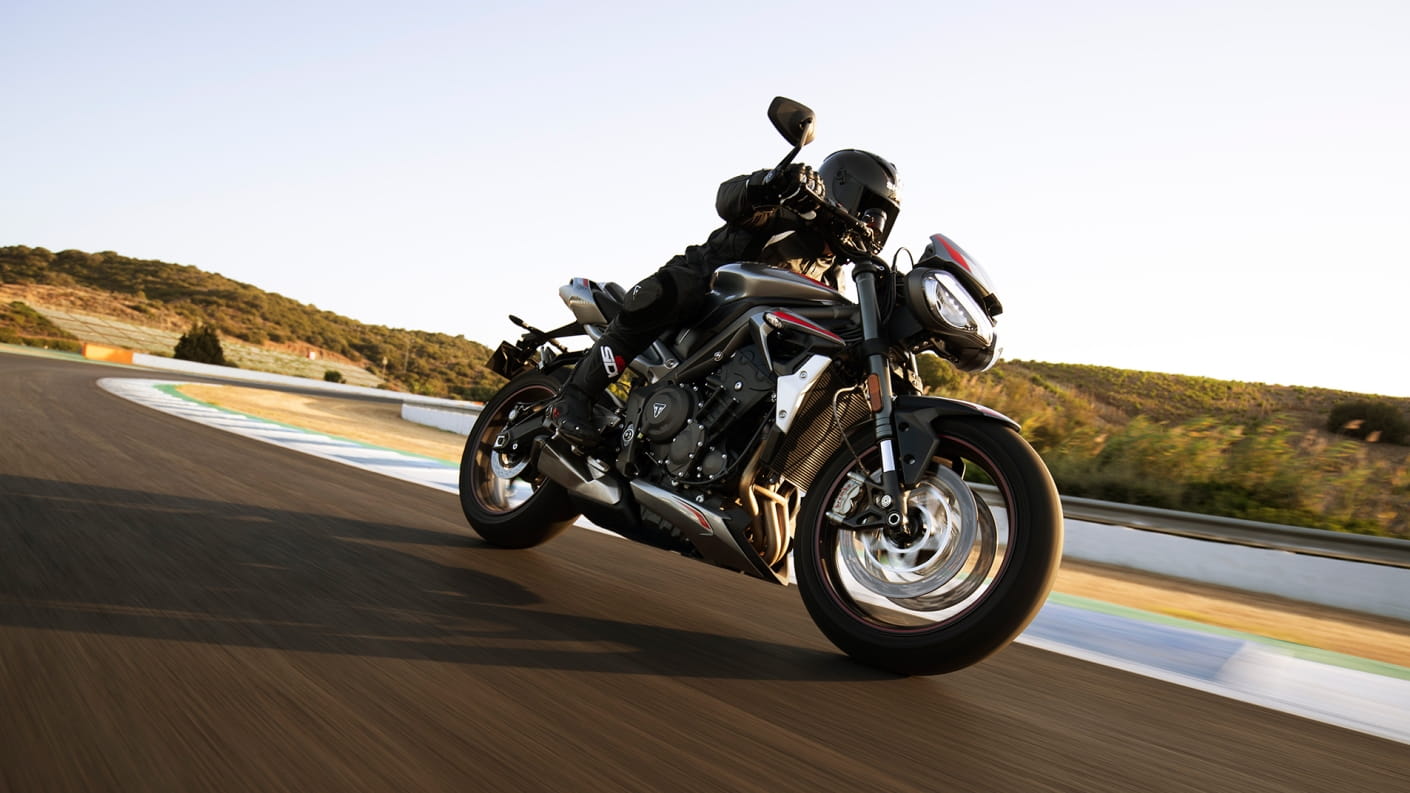 1. IT'S OUR BEST STREET TRIPLE EVER
The most addictive, explosive and intuitive performance street motorcycle you can buy, this new top-spec Street Triple RS delivers track-ready peak power of 121 HP at 11,750 rpm and peak torque figures that reach 58 LB-FT at 9,350 rpm for a dynamic, exhilarating ride. It's fast, fun, and stylish. The lightest bike in its class with a new engine update ensuring increased torque low-down and across the mid-range, it provides the type of immediate responsiveness and razor-sharp agility that's as welcome on the road as it is on the race track.
Built into the new Street Triple RS is the highest specification equipment ever seen on this range, with an even higher level of technology than on the previous generation. Superb styling improvements reflect this increased capability with a more distinct, aggressive look that's as apparent attacking apexes as it is parked in your garage. There's even a choice of over 60 genuine Triumph custom accessories to personalize your Street Triple and get even more from your ride.
2. TRIPLE 765cc ENGINE WITH MORE MID-RANGE
The new Street Triple RS brings a major step up in performance from an improved 765cc triple engine, incorporating performance updates developed as part of Triumph's Moto2™ engine program from the same team of engineers that developed the race engine. As a result of these engineering improvements and efficiencies, the new powerplant is more responsive, stronger, cleaner and Euro 5 compliant too.
This new Street Triple engine is now more performance-focused with even more distinctive Triumph triple character. And in the case of the RS engine, delivers even more peak torque than the previous generation. There's also improved responsiveness delivered through a 7% reduction in rotational inertia for faster revs, a noticeable improvement in torque throughout the mid-range, and a crisper, purer and more refined triple sound.
3. POWER-TO-WEIGHT RATIO
Not only the most powerful bike in its class, the new generation Street Triple RS is still the lightest bike in its class as well, meaning the power-to-weight ratio is incredible and central to its agile handling, intuitive dynamic feel and outstanding capability.
4. Moto2™ INNOVATIONS
Already renowned for its exciting performance focus and dynamic character, the new Street Triple engine now enjoys upgrades developed by our Moto2™ engine team. The result is a higher peak torque of 58 LB-FT at 9,350 rpm for the RS model, with 9% more power and torque across the mid-range, and peak horsepower soaring to an impressive 121 HP.
5. EVEN BETTER TECHNOLOGY WITH HIGHER SPECIFICATION
The new Street Triple RS features exclusive, enhanced TFT screen functionality with 2nd generation graphics and the new My Triumph connectivity system pre-installed, with all the software needed to support the accessory-fit Bluetooth module for GoPro and turn-by-turn navigation interaction. In addition, the Street Triple RS now benefits from Triumph Shift Assist – an up and down quickshifter now fitted as standard for the first time.
This new generation brings an even higher level of cutting-edge rider tech for even more confidence and control, with improved riding modes optimized to better utilize the new engine upgrades, advanced safety features like adjustable ABS and switchable traction control, and ride-by-wire for precise throttle response.
7. MORE AGGRESSIVE STYLE
The new Street Triple RS benefits from significant styling enhancements and now exhibits a more aggressive look, most noticeably from the all-new twin LED headlight with striking modern shape and stylish Daytime Running Lights on the top-spec RS model (local legislation permitting). The all-new bodywork now has cleaner lines and a more angular sporty style, with new generation changes to the flyscreen and air intake, side panels, rear unit, seat cowl, and belly pan. There's also a brand new and restyled silencer with a premium carbon fiber finisher, unique to the RS.
8. STREET & TRACK CAPABILITY FOR A CATEGORY-LEADING RIDE
The new Street Triple presents an agile, exhilarating ride with precise, engaging handling achieved through Triumph's advanced chassis and suspension engineering. One unique example is the gullwing swingarm, this feature delivers both torsional stiffness and lateral flexibility for maximum stability both on the road and at accelerated track speeds for even greater rider confidence.
For the RS model only, Pirelli's latest generation Diablo Supercorsa SP V3 tires offer track-ready performance, grip and stability in a fully street-legal tire. All Street Triple riders benefit from advanced stopping power and sublime suspension performance courtesy of Triumph's top-spec braking and suspension components, together they contribute to the Street Triple's smooth roadster ride and confidence-enhancing capability.
9. REFINED FINISH & DETAILING
Adding to the Triumph's exceptional build quality are a number of premium detailing touches. New shaped mirrors instantly give a more contemporary look to the RS front end, while the Street Triple's handlebar clamp was restyled to feature distinctive Triumph branding. In addition, there are more harmonized component finishes like black control plates and rear footrest hangers, and satin metal heel guards and silencer, all further enhancing to the already eye-catching looks.